Employees share their go-to music genres
The bodyshop can be a noisy place; someone could be welding in one area, a heavy-duty fan could be blowing in another, reception is bustling with customers and phones are ringing all day long – maybe there's a shouting match with an insurer or two.
It can be easy to get lost in shop noise and find yourself out in the parking lot just to let your ears stop ringing.
In fact, an overabundance of noise in the workplace can lead to a slew of health issues that don't even involve your ears or hearing at all. The Canadian Centre for Occupational Health and Safety (CCOHS) notes the potential for increased muscle tension as well as changes in breathing and blood pressure when exposed to large amounts of industrial noise.
That's why we here at All Makes Collision Centre decided to sing a new tune for this post and reach out to our employees to hear about how they bring the noise at the workplace.
In a survey done by our employees, we asked about the role of music in the bodyshop and how it helps our collision industry experts, in the repair bays and the office alike, get through their day.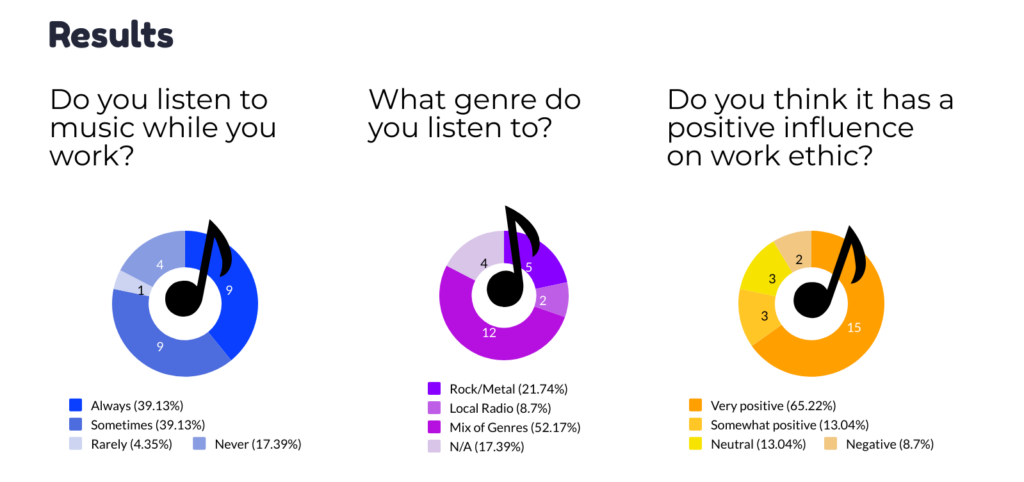 39% of employees work in the office, 26% work in the repair bays, 22% work in the paint department and the remaining 13% work in wash bay.
Most employees listen to a wide variety of music at work, but the only other popular genre choice was rock/metal coming in at almost 22% of employees.
In fact, 78.3% of those employees who took part in the survey consider playing music in the workplace to either be somewhat positive or very positive on their work ethic. With select outliers drawing attention to the potential distracting influence of bringing additional noise into an industrial environment.
Music is an essential part of life from infancy and on, and it can never hurt to check-in with your more creative traits every once in a while.